LG Electronics launch their LG KP500 mobile phone
LG Electronics has announced the launch of their LG KP500 mobile phone; a touch-screen mobile handset with the latest touch technology and the current market high end features.
President and CEO of LG Electronics Mobile Communications Company, Dr. Skott Ahn, says: "We want to reach out to this group and LG KP500 is our answer to deliver a high quality full touch screen phone that is easy to use and much easier to afford. Within reach of many consumers, we hope that more people will experience the joy of using the latest touch screen technology with LG KP500."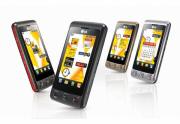 The slim and stylish LG KP500 is a GSM handset that operates on four frequency bands with the latest UI, an embedded stylus pen, and a full QWERTY keyboard, and is available in Anodizing silver, Elegant gold, Vandyke brown, Black, and is available at the end of October.