Verizon Samsung Sway full specifications and images
Now take a look at this, the cool looking Verizon Samsung Sway SCH-u650, there are many names for this phone like Samsung Sway or simply Samsung U650.
This is Verizon's latest mobile phone and must admit is a cool looking slider, it has a brushed steel silver finish and a 2-megapixel camera with NightShot, other features include A2DP stereo Bluetooth support, media player functionality, 2.2-inch display, V CAST Music with Rhapsody service, mobile web, personal organizer, IM, bilingual interface in English and Spanish, microSD card up to 8GB included, 270 minutes talktime, 312 hours standby plus so much more.

The Samsung Sway from Verizon will be available to buy from October 14th for $69.99 after a mail-in $50 rebate; you will have to take out a two-year contract agreement. Please read the full press release and check out the images below.

Press Release:
SWING INTO ACTION WITH SAMSUNG SWAYâ"¢ FROM VERIZON WIRELESS
Slim, Silver Slider Phone Packed with Non-Stop Music Entertainment and a 2.0 Megapixel Camera/Camcorder.
BASKING RIDGE, N.J., and DALLAS — Verizon Wireless, builder and operator of the nation's most reliable wireless network, and Samsung Telecommunications America (Samsung Mobile) announced that the Samsung Swayâ"¢ will be available for order today online at www.verizonwireless.com, in Verizon Wireless Communications Stores, and by calling 1-800-2 JOIN IN. This stylish phone comes packaged in a slim slider design with a silver finish, and it will be in stores for purchase on Oct. 14.
Verizon Wireless customers can use the Sway as an MP3 player to access more than 5 million songs that can be side-loaded from their PCs to their phones with a USB cable using V CAST Music with Rhapsody. Most music downloaded onto the PC using V CAST Music with Rhapsody is free of digital rights management software, which means the music, can be played on multiple devices.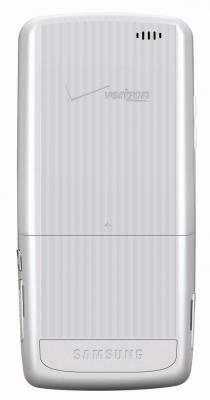 The Sway's 2.0 megapixel camera with digital zoom comes with NightShot to enhance the camera's capabilities in dark environments. The phone features a camcorder; Bluetooth® wireless technology for certain profiles; and video, picture, text and IM messaging options to help customers capture special moments and stay connected to friends and family.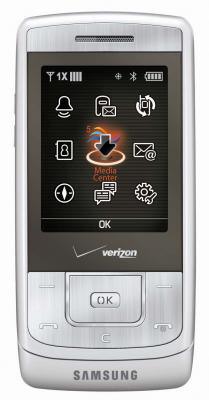 Key features and capabilities of the Samsung Sway from Verizon Wireless include:
Media Center-capable — downloadable games, ringtones, wallpapers, location-based services and more
Mobile Web-capable — customizable, enhanced wireless access to the latest in news, sports, weather and more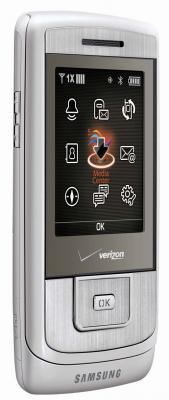 Mobile IM capabilities
Text, picture and video messaging
Bluetooth profiles supported: headset, stereo, hands-free (car kits), serial port, object push for vCard and vCalendar only, basic imaging, basic printing and phonebook access profiles
2.0 megapixel camera with NightShot
Camcorder
Expandable memory up to 8GB with external microSDâ"¢ card slot
Hearing aid compatibility = M4
Bilingual user interface (English and Spanish)

Personal organizer with calculator, calendar, alarm clock, world clock, stop watch and notepad
Dimensions: 4.15" (h) x 1.96" (w) x 0.47" (d) with standard battery
Weight: 3.56 ounces
Display: 2.2"
Usage time: up to 270 minutes with standard battery or
Standby time: up to 312 hours with standard battery
Verizon Wireless has priced the Sway to be available for $69.99 after a $50 mail-in rebate with a new two-year customer agreement. For more information on Verizon Wireless products and services, customers can visit a Verizon Wireless Communications Store, call 1-800-2 JOIN IN or go to www.verizonwireless.com.

Source — Samsung Mobile — Images Via here