Official BlackBerry Storm specs and photos press release
Feast your eyes on the all new coming soon BlackBerry Storm, below you will see the official press release, full specs and photos.
We can also check out the official BlackBerry Storm website below as well just so you can read even more about this stunning smartphone, oh yes official at last when it comes to images and specs, you will learn about this phone on Verizon, Vodafone, and RIM, the only downside is the release says releases next month, one thing that is strange it does not say the Storm has tri-band HSDPA, ponder a little we say.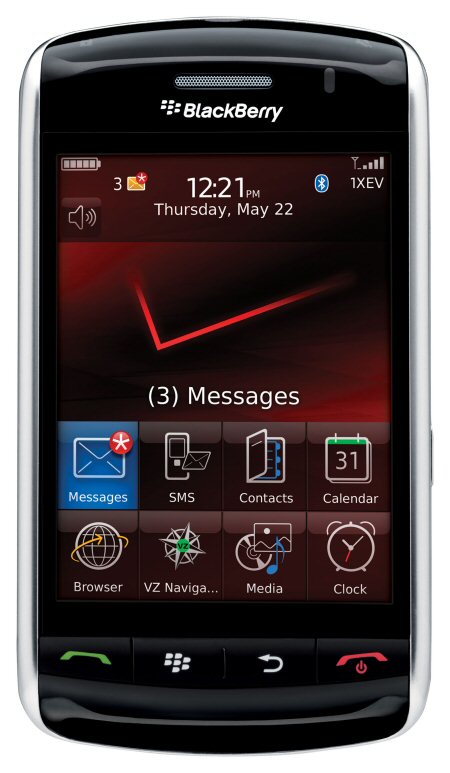 Official Press Release:
BASKING RIDGE, N.J., NEWBURY, England, and WATERLOO, Ontario — Verizon Wireless, Vodafone Group (NYSE and LSE: VOD) and Research In Motion (RIM) (NASDAQ: RIMM; TSX: RIM) today announced that the BlackBerry® Stormâ"¢ will be available exclusively to Verizon Wireless customers in the U.S. and Vodafone customers in Europe, Australia and New Zealand next month.
Designed to appeal to both consumers and business customers, the BlackBerry Storm combines the powerful communication features and productivity tools of a global BlackBerry smartphone with revolutionary technology that provides for easy and precise touch screen typing on the world's first tactile touch display that responds like a keyboard and combines multi-touch and gesture support for intuitive selection and application navigation.
In the U.S., BlackBerry Storm customers will benefit from the nation's most reliable wireless voice network and the pervasiveness of Verizon Wireless' reliable high-speed Evolution-Data Optimized (EV-DO) Revision A (Rev. A) network for rich Internet browsing. Building on the strong business heritage of BlackBerry, the Storm offers consumers a host of fun and practical features, including: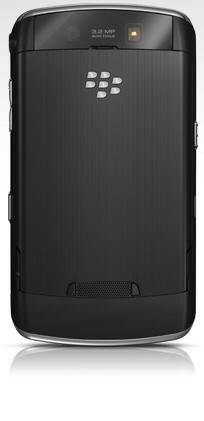 – Large high resolution screen coupled with a rich multi-media suite
– Text (SMS), picture messaging (MMS), the ability to watch 30-second video clips, instant messaging and access to popular social networking sites
– Removable and rechargeable 1400 mAhr battery that provides approximately 5.5 hours of talk time and 15 days of standby time.
"The BlackBerry Storm offers our customers more ways to stay connected to both their personal and professional lives — whether in their community or around the globe," said Mike Lanman, vice president and chief marketing officer of Verizon Wireless. "The BlackBerry Storm combines the reliability of our network with the dependability and network efficiency of the BlackBerry platform to deliver our customers the ultimate wireless experience — all in one of the coolest smartphones available on the market today."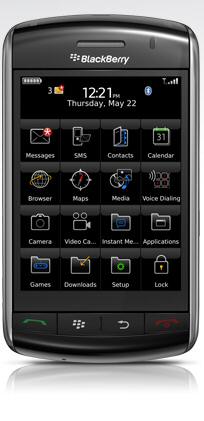 The Power is in The Touch
The BlackBerry Storm comes with a unique touch screen that gives a distinct 'click' confirmation when depressed ever so slightly, very similar in experience to a keyboard-based BlackBerry smartphone. An easy to use menu adds support for multi-touches, taps, slides, swipes and other gestures, so customers can easily select, scroll, pan, and zoom for smooth navigation.
The tactile touch screen display gives customers worldwide a choice of virtual keyboards — RIM's SureType® layout in portrait and a full QWERTY* layout in landscape orientation. Relevant features such as cut and paste are only a touch away for the ultimate smartphone experience.
World Class Smartphone
The BlackBerry Storm is a top of the line mobile phone with global connectivity. In the U.S., the BlackBerry Storm gives Verizon Wireless customers EV-DO Rev. A/CDMA — technology — and (2100Mhz) HSPA/UMTS as well as quad-band EDGE/GPRS/GSM for global use. The BlackBerry Storm 9500 from Vodafone supports (2100Mhz) HSPA and quad-band EDGE/GPRS/GSM networks.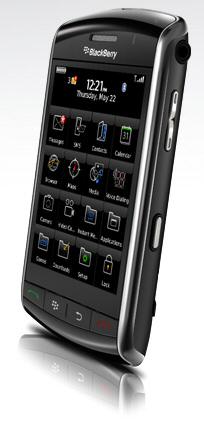 Browse the World Over
Customers will enjoy a full HTML high performance browser that works in either portrait or landscape orientation. Navigating Web sites is fast and easy with the touch screen interface that lets users tap to zoom in and slide their finger to scroll. Icons along the bottom of the display allow for quickly accessing "Favorites", opening the virtual keyboard to enter text, switching between "Page View" and "Column View", as well as the ability to toggle between "Pan" mode and "Cursor" mode. The enhanced browser supports file downloading, streaming audio and video, and with its built-in RSS support, new content from supported Web sites can be automatically pushed to the user.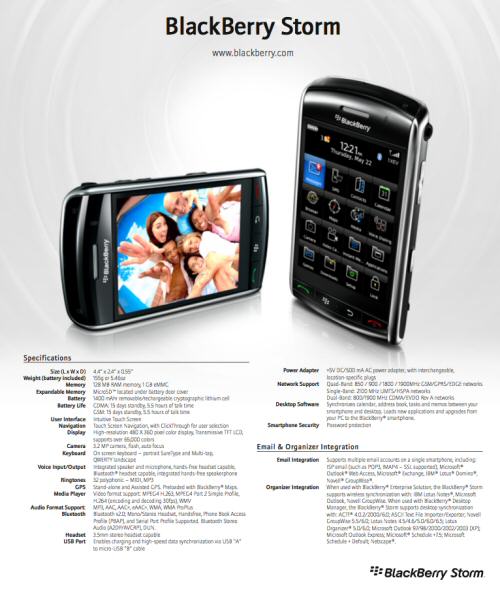 Packed with Additional Features
The BlackBerry Storm, exclusively from Verizon Wireless and Vodafone, also includes the following features and functions:
– BlackBerry® Internet Service, BlackBerry® Unite!, BlackBerry® Professional Software and BlackBerry® Enterprise Server support for seamless integration with corporate email systems and the security and IT policy controls that enterprise customers require
– Edit Microsoft® Word, Excel and PowerPoint files directly on the handset
– 3.2 megapixel camera, with variable zoom, auto focus, and a powerful flash that also provides continuous lighting when recording video; the camera records video in half-VGA resolution (480×320) or at 176×144 for MMS
– 1 GB of on board memory storage and 8 GB microSD memory card included in expandable memory card slot
– Media player that can find content on the handset in an instant, display pictures and slideshows quickly, play movies smoothly in full screen mode in any orientation, and manage an entire music collection; playlists can be created directly on the handset and there's an equalizer with 11 preset filters — including "Lounge", "Jazz" and "Hip Hop" — for customized audio ranges when using wired headphones or external speakers
– Sleek, elegant design with contoured corners, stainless steel back and chrome side-accents that frame its large (3.26"), touch sensitive, glass lens display; its exceptional 360 x 480 resolution at 184ppi, offering the highest resolution display ever introduced on a BlackBerry smartphone, is crisp and colorful with clarity that's easy on the eyes
– A sensor automatically adjusts to ambient light for ideal screen viewing and an orientation sensor allows customers to use the handset in a portrait or landscape position
Additional details related to availability and pricing will be announced in the coming weeks. To learn more, visit www.verizonwireless.com/storm.
* Virtual keyboards are also available in AZERTY, QWERTZ and other configurations to support different language groups.
Source — Official Site via BGR