Motorola Aura: a class if its own priced at $2,000
If you want one of the sexiest phones ever created then I suggest you take a look at the Motorola Aura, just the creation of the front plate took 14 days to produce. We don't think you will find a mobile handset out there that has been given more attention to design detail than this one. This sophisticated masterpiece of mobile design is something to shout about and it oozes class at every angle.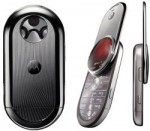 The Motorola Aura boasts over 700 individual components, you will not find another phone like this one, and it has a 16-million colour circular display that has never been created before.
This really is a quality phone, the crystal clear sound using CrystalTalk technology when making and receiving calls is second to none and will have you begging for one. Besides the call quality you will find a 2-megapixel camera, microUSB port, Stereo Bluetooth, multimedia player, quad-band GSM connectivity, microSD card slot and 7.3 hours talk time with 400 hours if on standby.
While the world has gone smartphone crazy Motorola has come up with the Aura and made us look more than twice with its Swiss-made main bearing and 62-carat sapphire crystal lens, but of course with quality comes price and the Motorola Aura price tag is not for the faint hearted as this sexy phone will set you back $1,999.99 and is available now to pre-order from the Moto Store.
Love really is the 4.97-ounce Aura, diamonds are so last year. I just hope that Santa brings me mine as Motorola will start shipping the Aura on the December 4.
Source: engadgetmobile