BlackBerry Storm battles Apple iPhone: Customer Satisfaction
Apple (NASDAQ:AAPL) and Research in Motion (RIM) are still at battle with the iPhone and the BlackBerry Storm as to which smartphones comes out tops, according to a ChangeWave survey, RIM still consumes the majority of the smartphone market by taking a whopping 41 percent of it, whereas Apple takes up 23 percent of the market, however Apple have gained 6 percent since the previous September Survey but RIM slumped 1 percent since September.
But the most important thing to consider is that Apple due to the release of the 3G iPhone in late June has more than doubled its market share.
If we look at the overall customer satisfaction between the BlackBerry Storm and the Apple iPhone, the survey reveals that the overall new owner rating of the BlackBerry Storm was best described as Lukewarm and the Apple iPhone was put in the Very Satisfied overall rating.
Check out the graphs so you can see how the results were calculated.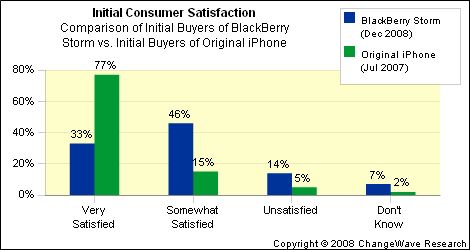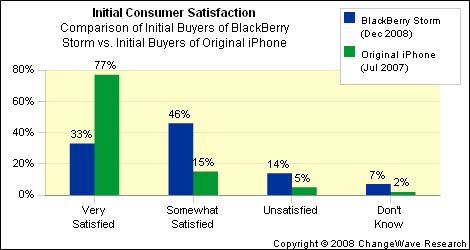 Source: Changewave