Apple iPhone next generation to have new housing?
The Apple iPhone, a lot of speculation is going round about what next for the Apple iPhone? Word is hitting the net, along with images that the next Apple iPhone will have a new casing.
This new Apple iPhone casing purportedly for the next generation iPhone has come out of China and is said to be constructed of a slip resistant matte black coating over a metal base rather than a plastic one like the Apple iPhone 3G.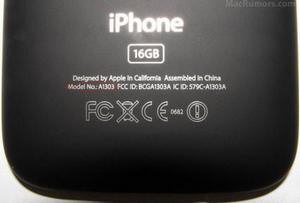 There is even a new model number on this image of the casing, A1303 along with what appears to be FCC ID numbers, which are not usually seen on a photoshoped rendition.

So, could this be the real deal?
Source — BGR