Apple iPhone OS 3.0: Scott Forstall on Apps, Devs & Features
Scott Forstall is now talking on the Apple iPhone OS 3.0 preview; and this is news about apps, devs and customers, some of the features will be pretty major to the new OS.
Talking about enhancements to the App Store; so far over 800 downloads. This is the best way for devs to get their software out there, it is a good business deal as well, Scott Forstall said "They can give apps away, or they can sell them. 70% of that revenue goes to the devs. And we cover all the fees, and devs are paid monthly".
"But some devs have come to us and talked about other models they'd like to use. Like subscriptions. A place where you could renew that sub in the app. Some game devs have wanted to be able to sell new levels from within an app. There are many examples of that, like e-books. Like a bookstore built into an app. We support these new models in what we call In-App Purchase."
Other features will include say prompts to buy an update to magazine within an app, or the likes of purchasing a game with 10 levels; and with a simple tap you can update with another 10-levels within the game (With a cool pop-up).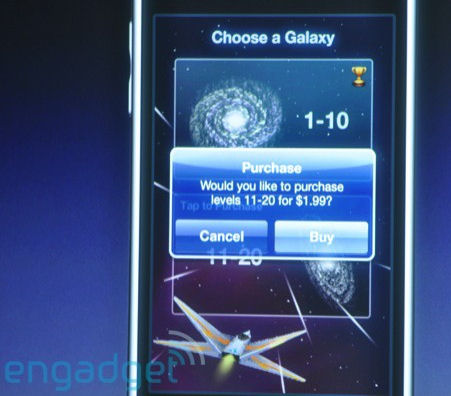 This will all work directly with the iTunes store, when you tap the screen to buy, it will bring up the standard iTunes authentication panel.
He also mentioned "City Guide, you can sell the app, and then sell new cities from within the application. This is for paid apps only." "The model for in-app sales is the same as the rest of the App Store, 70% goes to developers."
Of course free apps will stay free and will not be asked to buy something in that app.