BlackBerry Curve 8900 Software Update: Official 4.6.1.231 OS
They seem to be coming out faster and faster this year with official updates close on the heals of leaked versions, and one such software update gets official today reports CrackBerry.
Hutchinson has now launched the official update 4.6.1.231 OS for the BlackBerry Curve 8900 smartphone.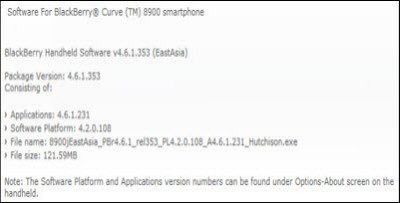 As you are aware with this being an official OS update to the BlackBerry Curve 8900 there's no need for a disclaimer and you Blackberry Curve 8900 owners out there just may like to take a look at 4.6.1.231 to see what it offers.