Microsoft My Phone Service Now Ready For Public Tests
Microsoft My Phone service is apparently now ready for Windows Mobile users to test out; this beta was previously invitation only but according to a post on slashphone is now available to the Windows Mobile toting public.
Microsoft My Phone service syncs Windows Mobile 6+ to Microsoft's' 200MB per person cloud and includes tasks, photos, calendars, contacts, music, videos, text messages and much more.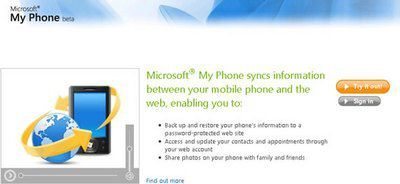 Basically what this means is that anything on the Microsoft My Phone website is now on the mobile phone and vice versa; so if anyone tries it out feel free to let us know how it goes down.