Palm Pre Best Buy Launch Stock Availability Revealed
By now virtually everyone will be aware that on launch the Palm Pre smartphone will be in somewhat of a short supply, but just how dismal can we expect that Palm Pre stock to be?
Well, everythingpre has managed to get hold of a couple of alleged screens showing Best Buy stock figures for the soon to be launched Pre.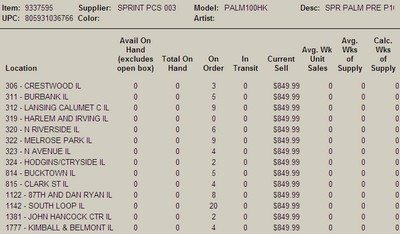 These images show Best Buy stores in Florida and Texas will hold 18 to 20 Palm Pre smartphones while other locations get a dismal and extremely disappointing 2 or maybe if they are lucky 3. So I would say to those who are waiting to grab the Palm Pre, don't bank on getting it on launch day.