WWDC 2009: New iPhone Rumours, picture graphic features
Oh yes rumours surrounding WWDC 2009 and the new Apple iPhone is always titillating isn't it, well check out the latest new iPhone features.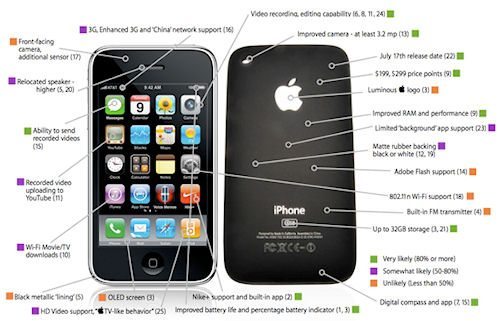 If you look at the picture provided it shows you quite a lot that should excite, yes it is the stunning graphic which was designed by The Green Room blog. The new iPhone and OS 3.0 will be announced next week at the WWDC 2009 which runs from June 8 — 12.
The picture graphic shows video recording and editing features, Wi-Fi movie downloads, OLED screen, Apple logo that lights up, July 17th release, Enhanced 3G, Matte Black or White rubber back cover, Adobe Flash support and so much more.
Source – Cnet