AT&T Apple iPhone 3G S Pre-order now ready
Yesterday the iPhone 3G S was announced and if you are looking to own one then you may like to know that according to the crave, AT&T has announced the iPhone 3G S can now be pre-ordered via their new iPhone website.
Currently only phone for full contracts are available, and there is no word on any waiting timeline but no doubt the quicker you sign up the quicker you'll gain the iPhone 3G S.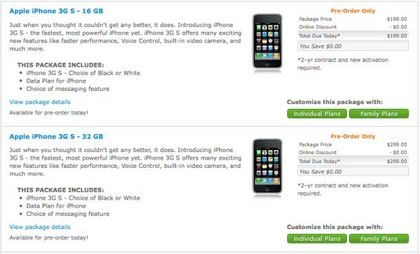 Both 16GB and 32GB iPhone 3G S versions are available for pre-order, while you can also order the 8GB iPhone 3G right now. So if you really want the iPhone 3G S before Christmas then go pre-order it, or you could opt for standing in line at a store.