Nokia 5800 v31.0.0.15 Firmware Update soon to come
The Nokia 5800 XpressMusic now has a new firmware update on its way, firmware v31.0.0.15 according to an article over on fonearena.
Apparently, when Nokia Conversations posted their "Nokia Ovi 2.0 Introduction" video to YouTube at the 0:57 second mark it shows the firmware version for the Nokia 5800 XpressMusic as v31.0.015. Furthermore, All About Symbian has quoted that v31 was the stable release a couple of weeks ago and it should appear this week to the public.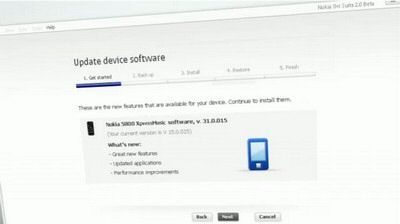 New changes with v31 firmware could deliver a new home screen. Or maybe a widget home screen, or even kinetic scrolling.