Exclusive BlackBerry Curve 8520 at Walmart August 5
The word is that T-Mobile will launch the BlackBerry Curve 8520 as of the 5th of August, and has been confirmed by a Walmart tipster who sent a copy of a text message to engadget mobile.
The message said the BlackBerry Curve 8520 will become available as of the 5th of August and is looking like it will be exclusive to Walmart up until the 5th of October.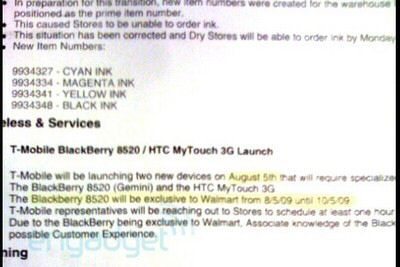 The BlackBerry Curve 8520 may not stack up against the BlackBerry Tour or BlackBerry Curve 8900 spec wise but it will be the first BlackBerry handset to ship minus a trackball.