BlackBerry Curve 8520 Available via Wal-Mart on August 5th
The T-Mobile BlackBerry Curve 8520, also known as the BlackBerry Gemini is apparently to launch as of the 5th of August claims an article on blackberry rocks.
And it looks like the T-mobile branded BlackBerry Curve 8520 will be going to Wal-Mart, but if Wal-Mart is going to see the Blackberry Curve 8520 on the 5th of August then other retailers won't be too far behind.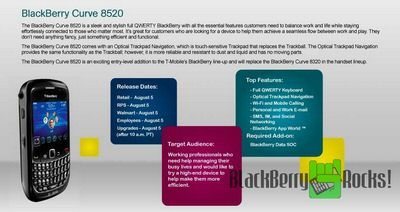 BlackBerry Curve 8520 spec aren't that brilliant though, sporting a flash-less camera with the same display resolution as the original BlackBerry Curve, full QWERTY keyboard, and just EDGE connectivity.