T-Mobile Samsung Gravity 2 now available
Well it has taken a while but finally T-Mobile has put a spurt on and has now made the Samsung Gravity 2 available according to an article over on tmotoday.
T-Mobile now has the Samsung Gravity 2 up for sale as of now in Berry Mauve and Metallic Pumpkin, so that's burgundy with pink, and grey with orange, and can be gained for $29.99 when signing a 2 year agreement.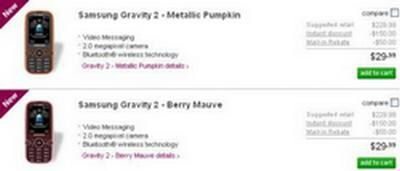 That pricing puts the Samsung Gravity 2 at the same price as the original Samsung Gravity, although the Samsung Gravity 2 sports the same software as the Samsung Comeback.