Sprint Leak Spec Sheet: Verizon Omnia 2, AT&T Pro2, Warhawk and LG Monaco
We gain a little more detail on the Verizon Samsung Omnia 2, LG Monaco, AT&T Touch Pro2 and HTC Warhawk today courtesy of a leaked Sprint spec sheet found by wmpoweruser.
Some of the info gleaned from the Sprint spec sheet is that we now learn the LG Monaco may come with Windows Mobile 6.x, so probably Windows Mobile 6.5 rather than the rumoured Windows Mobile 7. Other stuff shows the AT&T branded HTC Warhawk may keep its front facing VGA camera and pack Windows 6.5, but the Touch Pro2 will only carry WM 6.1.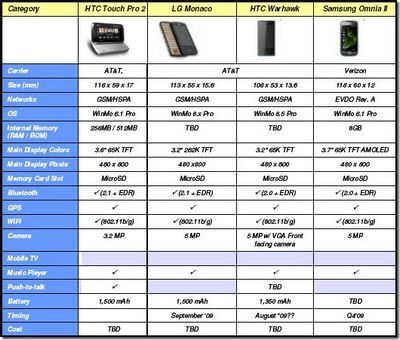 There is also the Samsung Omnia 2 for Verizon which according to the spec sheet will be 8GB with Windows Mobile 6.1 and pack a 5 megapixel camera, of course this could be wrong but that's what the spec sheet shows.