Verizon BlackBerry Storm smartphones selling for $49.99
Verizon wireless looks to be making way for the impending arrival of the new Research In Motion BlackBerry storm 2 by chopping the asking price of the original BlackBerry Storm 9530 smartphone reports phone arena.
Thus the USA's largest carrier has now dropped the price of the BlackBerry Storm 9530 way down to a low $49.99 on signing up for a 2 year agreement and after rebate.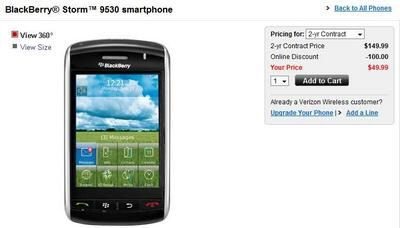 So if you ever wanted Research In Motion's first touch screen smartphone, now is the time to pick up your BlackBerry Storm 9530, unless of course you want to wait for the BlackBerry storm 2 that is.