Wal-Mart offer Palm Pre for $79.99
Not too long ago we saw Sprint drop the price of the Palm Pre smartphone down to $149.99, taking the Palm Pre below the HTC Hero's $179.99. A few days ago the Palm Pre was seen even lower with Amazon carrying a price tag of $99.99.
Now according to an article by everythingpre, you can grab the Palm Pre for even less via Wal-Mart, because if you are willing to go through the rebate process, Wal-Mart are offering the Palm Pre for just $79.99 on a two year contract.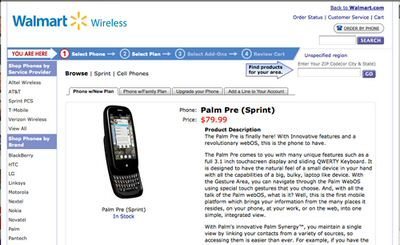 Apparently the $100 mail in rebate is via Let's Talk as they deal with Wal-Mart wireless sales. So now that the Palm Pre has hit its lowest price yet, maybe it is time to nip out and grab one.