Verizon Wireless Samsung Intensity SCH-U450 on the cheap
If you are in the market for a Verizon Wireless branded Samsung Intensity SCH-U450 handset then you may just want to nip over to Amazon as they are offering the Samsung Intensity SCH-U450 at a considerably cheap price.
When I say cheap, I mean like dirt cheap as the asking price is just one penny, saving a whopping $199.98 on the original asking price, now that's a bargain.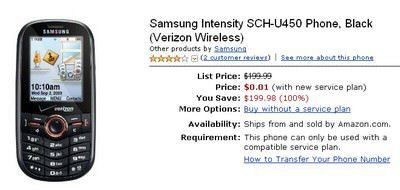 Spec wise the Samsung Intensity SCG-U450 offers a 2.1 inch display, horizontal slide out QWERTY keypad, 1.3 megapixel camera, CDMA 800/1900, web browser, audio player, Bluetooth 2.1 with A2DP and microSD expansion.