iPhone 4G (HD/3GS2) iChat within OS 4.0: Is Video Calling Coming?
The new iPhone OS 4.0 has unveiled iChat, which could possibly mean video calling is coming to the new iPhone 4G aka HD or 3GS2 (The official name will be revealed sooner or later), in the meantime we will mention all names.
We found via Redmond Pie that site TechnoBuffalo had a little information sent to them via a tipster showing strong evidence in the new iPhone OS 4.0 software iChat; this could possibly mean video chat/calling options coming very soon to the new Apple smartphone.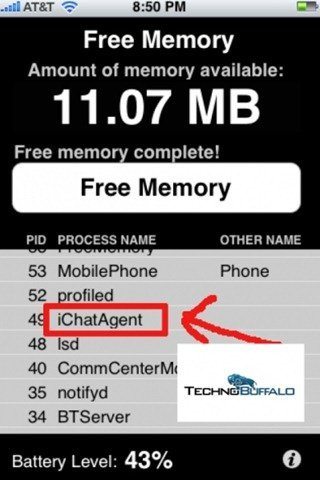 This evidence was found through a process called "iChatAgent", which was revealed by a $0.99 app named "Free Memory Lite" from the iTunes App Store. Now we have already reported back on the 9th of this month about iChat Video would be coming soon, so hopefully this is an update on that information.
We would love to know if AT&T could handle this new feature, and of course we hope Verizon release its new CDMA iPhone, iChat would be fantastic on the iPhone. We will let you know more sometime in June when and if they unveil the new Apple iPhone 2010 at WWDC 2010.
Source – product-reviews.net