Microsoft KIN One and KIN Two Pre-order and Release Dates Outed
We gain some insight into the pre-order and release dates for Microsoft's social networking smartphones the KIN One and KIN Two today by way of a screen grab from the Big Red's internal system reports an article over on pocket-lint.
The screen grab was posted by the guys over at slashphone and shows that both the Microsoft KIN One and KIN Two should be up for pre-order as of the 6th of May while both smartphones should see release as of the 13th of May.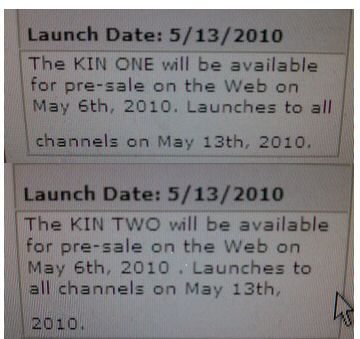 Although the Microsoft KIN One and Two, specs for which can be see (here) seem to have gained their availability dates the UK version of the Microsoft KIN One and KIN Two still has a way to go before the exclusive partner in the UK, Vodafone offers the social networking handsets sometime in the autumn.
It does look like Microsoft is keeping their April launch event promise that both social networking smartphones would be out and about for the social conscious in May though.