HTC Aria Android Phone for AT&T Gets Pictured
Reportedly this new HTC Aria Android based smartphone is destined to be the first Android handset made by HTC to go with AT&T, and a couple of low resolution images of the device have now be leaked to the net waves.
According to Florin of Unwired View, the HTC Aria pictures come via Android Guys, and looks to "borrow" from the designs of both the HTC Droid Incredible and HTC EVO 4G, but a tad on the smaller side.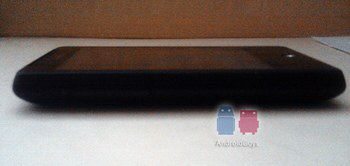 Spec wise word has it the HTC Aria packs a 2.8 inch QVGA touch screen, a 5 megapixel camera and runs the Android 2.1 operating system with HTC Sense user interface, and a 3.5mm jack, but other than that any other specs aren't known just yet.
Word also has it that the HTC Aria may just be announced by AT&T sometime next week, but there's no confirmation on that, nor is there any word on just how much the AT&T HTC Aria may cost the customer; more as and when we hear.