iOS 4 Facebook Video Upload Feature Found
Apparently with the new iOS 4 the iPhone could well have the option to upload video to social networking website Facebook as apparently this feature has been found hidden inside the iOS 4 Gold Master build.
According to an article over on Electronista by way of 9to5mac, the code, although not exposed in iPhone handsets so far, could enable a user to post up to 480 x 480, 30fps video to Facebook and all iOS enabled device could play it back beings Facebook uses HTML5 video which works on iOS hardware,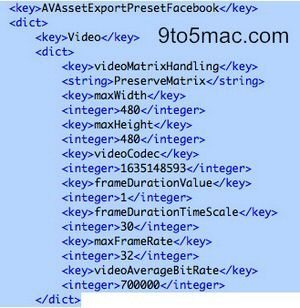 Apparently though this feature may not be active when iOS 4 ships and references to contacts and calendars have been made but are still not public, but then again Apple may just expose the Facebook video uploading feature without a firmware update.
So there it is, now whether you will gain the Facebook feature when Apple pushes out iOS 4 is another matter, but lets hope so; more on this as and when we know.