Motorola Droid 2 Android 2.2 FroYo Installed Upon Launch
It seems like it is official that the Motorola Droid 2 will have Android 2.2 FroYo installed on the handset upon launch, yes the new operating system will come pre-installed.
We just visited the good site Gadget Venue and they have a flyer on show that reveals the Motorola Droid 2 document sheet, it clearly shows that Android 2.2 aka FroYo will be installed on the smartphone.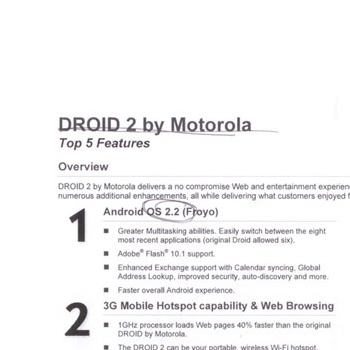 The Droid 2 is rumoured to be launching next week on August 10, release date is expected to be two days later on August 12, fingers crossed as they say. We reported the release date yesterday and even asked the question if the Droid 2 could steal Verizon's Droid X.
Other details shown on the detailed sheet says that up to 8 apps can multitask on the Droid 2, webpages can load much faster and 40 percent faster at that thanks to the Android 2.2 and 1GHz processor it boasts, and the best bit is that it features the ability to use the handset as a portable Wireless Hotspot.
The Droid 2 has the Swype feature and the keyboard is very good indeed apparently, Social networking site like Facebook is already pre-installed as well.
Keep coming back because we will have much more information on the Motorola Droid 2, remember August 10th, as this is the day it is expected to launch.