Frugal Compare Grocery Prices iPhone App: Like or Dislike?
Frugal Compare Grocery Prices iPhone app has been out a while now and has even been updated 3 weeks ago to Version 2.0.1.
We would love all Apple iPhone users who use this app to send in personal reviews and if you like or dislike the app, for those that have not got 'Frugal Compare Grocery Prices' please read on for a quick recap.
Frugal compares grocery prices is an app that will find you the best deal around, it will allow you to convert product quantities both imperial (UK and US), it will also give metric units to find out what is the best price.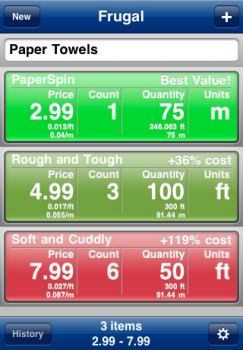 Main features Includes: Optimized user interface requires fewer taps to enter values, compare an unlimited number of items at a time, instantly converts and shows quantities in both imperial and metric units, intuitive item entry with large custom numeric keyboard, imperial (US and UK) and metric units for comparing items, weight, volume, length, and area, plus shake to start a new comparison, count field for handling bundling deals (e.g. 2 for 1), set comparison and item names for future lookup, phone or calculator numeric keyboard styles and history for checking or modifying your past price comparisons.
For more information and option to download this iPhone app please visit iTunes, once again of you do have this app installed please let us know if you like or dislike, thanks.