New Kung Fu Santa iOS App: Will Apple Approve It?
A brand new iOS app called Kung Fu Santa has been submitted to Apple and should be released soon once approved, hopefully this one will not get rejected. Will Apple approve it?
Anyway, KUNG FU SANTA looks like a very interesting and addictive game for all iOS device users, game developers Big Bad Brush has announced today that this game will be coming soon and will be available for the iPhone, iPad and iPod.
Main Game Features Include: Game Center Master the boards, Retina display will give High Resolution Sharpness so you can see Santa's skills, In-Game highscores, Collect presents and gold and Kung Fu.
This game is highly addictive apparently and is very easy to play, all you need to do is tap on candy cane poles or swipe left and right to move, collect presents and fill up Christmas bag and avoid those nasty little Evil Elves.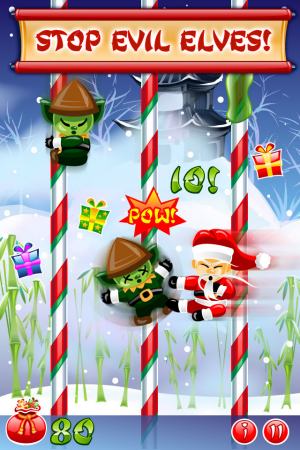 Device Requirements: iPhone, iPod touch, and iPad, Requires iOS 3.2 or later and the app size is 6.5 MB so hopefully you have this space on your device.
Please do watch the video below, once it has been added to the App Store please do let us know if you have downloaded it, we would love to know what you think of the new Kung Fu Santa game.