Custom Christmas Cards HD iPad App: Create Your Own
It is December 1st so pinch punch first day of the month and all that, Christmas 2010 is only 24 days away now and many of you are probably rushing out to buy your Christmas Cards, well step back and consider the Christmas C@rds HD iPad iOS app.
You can now create your very own season's greetings cards with ease, the cards are e-cards with beautiful Christmas templates where you can add photos from your devices album, you can even text wherever you want then add a design sticker and save them to your album or send them out directly from the App.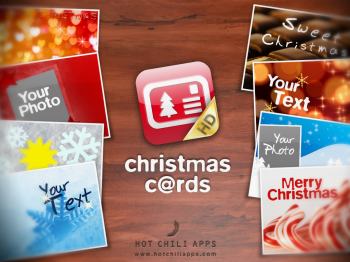 Christmas C@rds HD By Hot Chili Apps Main Features Include: 18 Christmas design sticker to decorate your C@rds, 36 Christmas C@rds templates in brilliant HD quality, Beautiful User interface and Intuitive, iPad like handling.
For more information please visit iTunes, if you already have this app installed on your iPad please do send in your personal reviews and opinions.