CES Vegas 2011: AT&T Samsung Infuse 4G Specs and Hands-On
The new AT&T Samsung Infuse 4G Android smartphone has been revealed at CES Vegas 2011 Show and we have details covering specs and hands-on love.
Samsung Mobile and AT&T at the Consumer Electronics Show 2011 have announced the brand new 4G device running Google Android 2.2 Froyo operating system and the specifications looks promising to say the least, according to Techtree this new handset seems to be the successor to the Samsung Galaxy S and will be due for release in 2011 sometime and of course we will keep you posted on official release dates.
Ok, so what does the Samsung Infuse 4G feature then? Well for starters it boasts a huge 4.5-inch Super AMOLED touchscreen display, only 9mm thick or should we say 9mm thin, which makes this one of the thinnest smartphones in the Samsung series, 1.2GHz Samsung Hummingbird processor has been added, Android 2.3 Gingerbread update is expected to come after its release, 720p HD video recording and an 8-megapixel camera on the back and a 1.3 megapixel VGA camera on the front for video calling.
Other features Include: HSPA+CAT14 network, up to 21Mbps data speeds on 4G networks, for more information on specs please visit Engadget as they have some nice details.
Below you can see a nice image of the new Samsung Infuse 4G smartphone but you can see real hands-on photos via the Engadget gallery, even though the guys had their hands on the device the handset was not allowed to be switched on.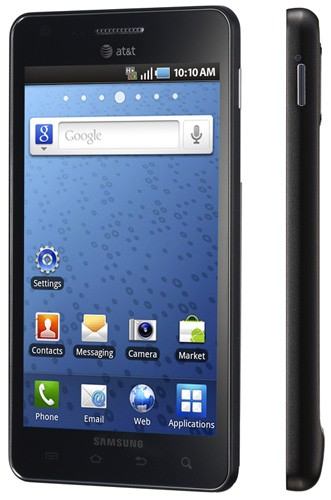 Please do let us know what you think of the new AT&T Samsung smartphone, we are loving this smartphone already but time will tell if the specs above lives up to expectations. Keep coming back because we have plenty of CES 2011 Las Vegas Show news coming your way.
Source – Samsung USA News