Pioneer SmartCradle GPS iPhone Car Dock (CES 2011) Auto Style
For all you Auto news lovers out there you will be happy to know Pioneer at CES 2011 have announced a brand new product called the SmartCradle for your vehicle that wants to hug your Apple iPhone.
At the Las Vegas CES 2011 Show the Pioneer SmartCradle has been announced for the iPhone, which clearly shows that the Apple smartphone fits into the auto industry very well indeed.
The Pioneer SmartCradle device has an external antenna and a dedicated GPS receiver that will work with the Apple iPhone and the new iPod Touch GPS capability, it features an integrated microphone and amplified speaker that works well for hands-free calling and also charges the phone as well.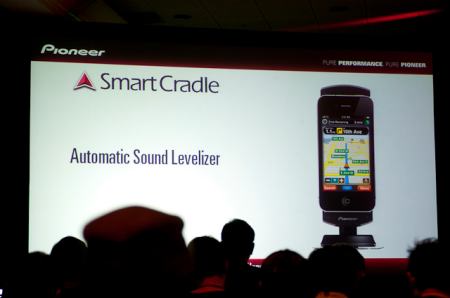 There is no price or release date as of yet but rest assured we will let you know as soon as we know, join us on Facebook or Twitter for updates.
Apparently according to Cult of Mac Pioneer have also announced two new head units that have Twitter and Facebook integrated; we will bring more info on these soon.
Please watch the video clip via YouTube below, you can also read the full press release and check out more images via Engadget.