iPhone 4 Against Google Nexus S Fully Compared
If you've ever wanted a detailed comparison between Apple's iconic smartphone, the iPhone 4 and the latest Android smartphone from the Google guys, the Samsung built Google Nexus S, then read on because that's exactly what we have for you today.
The guys over at Mobilegyaan have come up with an infographic detailing the differences between Apple iOS sporting iPhone 4 and Google's Android 2.3 Gingerbread touting Nexus S.
The details info graphic includes such comparison stuff as measurements, weight, display, OS, camera, Bluetooth, WiFi, processor, RAM, internal memory, and additional features, you name iit and they have just about covered it.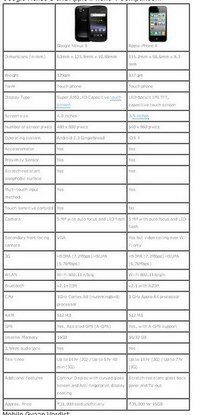 They conclude that the iPhone 4 is quite different in many way to the Google Nexus S (something we obviously knew already) but the Google Nexus S does come out the cheaper smartphone to purchase.
They also say on the down side, the Google Nexus S is an Android device and as Android is a comparatively new operating system doesn't offer as many applications as Apple does for the iPhone, (again we all know this, but Android will catch up on that area given time.)
Anyway check out the full size iPhone 4 versus the Google Nexus S comparison infographic over at their website, and let us know your views on both devices by dropping us a comment below…many thanks