Verizon iPhone: Apple Pre-order Pages Up, Maybe
For all you prospective Verizon iPhone owners out there you might like to get a jump on others and get your pre-order in for the CDMA iPhone from Apple as apparently Apple has now gone live with their Verizon iPhone pre-order pages.
According to an article over on Slash Gear, the Apple Verizon iPhone pre-order pages went active earlier today showing $199 for the 16GB Verizon iPhone and $299 for the 32GB Verizon iPhone with links taking the user through either adding the product to your existing account setting up a new Verizon account.
Apparently the Verizon iPhone has 3 individual voice plans starting off at $39.99 per month for which you'll get 450 minutes, $59.99 per month gets you 900 minutes along with unlimited calls to 5 people on any network, or for $69.99 per month the user gains unlimited nationwide calls.
On the data plan front the Verizon iPhone offers unlimited data for $29.99 per month and for the addition of 2GB mobile hotspot data it costs $49.99 per month with $20 per additional GB of mobile hotspot data.
On the messaging side of things you can have 250 messages for $5 per month, 500 messages for $10 per month along with unlimited to other Verizon users, completely unlimited for $20 per month, and pay-per-use is 20 cents per text and 25 cents for video or image messaging.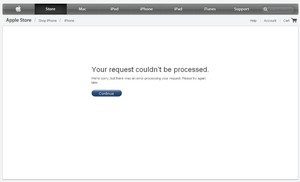 Now although the pr-order pages were up, I tried to access them a few minutes ago and couldn't the pages come up with a message saying "You're request couldn't be processed," but maybe that's because I'm in the UK, or maybe Apple has taken them down already, or maybe it's due to people rushing to pre-order. So if any of our reader's happen to give it a go feel free to let us know how you get on.