Motorola Droid X2 Specs Revealed and Pictured
There are quite a few sequel devices coming out in the near future, the Samsung Galaxy S 2, the Apple iPad 2, HTC Wildfire 2, to name but a few, and the Motorola Droid X isn't about to lose out on that 2nd version either it would seem.
According to an article over on Phone Dog, the sequel device to the original Motorola Droid X, the Motorola Droid X2 has been spotted in the wild by the guys over at The MobiZone along with a nice list of specs.
Those Motorola Droid X2 specs are…a 4.3 inch qHD touch screen, 8 megapixel camera, Android 2.2 Froyo on release but upgradeable to Android 2.3 Gingerbread, new MotorBlur, 1GHz Tegra 2 dual-core processor, 1GB RAM, FM radio and 3G connectivity but no LTE.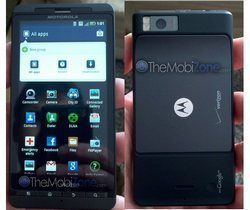 From the looks of it, it appears there isn't a great deal of change from the Motorola Droid X when it comes to design, and as for release date, there's apparently a possibility that the Motorola Droid X2 just might see release in the second quarter.
So what do our Motorola Droid X toting readers think of the Motorola Droid X2, has it captured your eye and making you think it might be worth upgrading to once it arrives?