Motorola Xoom Zooms Apart in Latest Teardown
The "I've got to see what's inside that device" guys have been hard at it over the last couple of days, with a teardown of the Motorola Atrix 4G followed by a teardown of the Samsung Galaxy S 4G and now the new Motorola Xoom tablet has been torn asunder.
According to the guys over at Intomobile, those busy guys over at iFixit have wasted no time at all in grabbing the Motorola Xoom and taking the Android tablet apart screw by screw to have a butchers at what it is made of.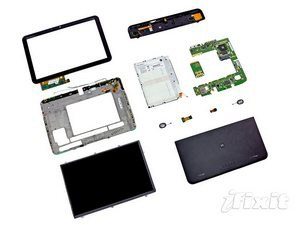 The Motorola Xoom teardown cover three pages all with numerous pictures of each stage of its dissection to find such things as a Qualcomm MDM6600 with HSPA+ support, Tegra 2 dual-core ARM Cortex-A9 processor, Samsung K4P4G154EC DRAM, Toshiba THGBM2G8D8FBA1B NAND Flash, Broandcom WiFi, Bluetooth and FM tuner along with a Broadcom single-ship AGPS.
When it comes to reparability, the iFixit guys say the Android 3.0 Honeycomb Motorola Xoom is fairly easy to repair and give it a reparability rating of 8 out of 10 with 10 being the easiest and the Xoom has 57 screws in total either T5 or T7.
So there you have it, you can check out all the images of the Motorola Xoom baring its innards by heading over to iFixit if you enjoy seeing device internals on display.