Samsung Galaxy Tab 10.1 Nice, 8.9-inch March Event
March 22, UNPACKED event "What's your TAB life?" The Samsung Galaxy Tab is already with us as so is the 7-inch Tab so it only stands to reason that the 8.9-inch should be next, and it will be.
Samsung according to Mashable is launching the new Galaxy Tab 8.9-inch March 22 at a special event; this event has been announced on Samsung's official Facebook page.
The special event is to be happening during CTIA in Orlando, Florida and the name of this event is called UNPACKED event "What's your TAB life?" If you look at the image above you will see it says, "What's your TAB life? 78910"
It is obvious the numbers 78910 means the size of the tablets aka 7-inch, 8.9-inch and 10-inch. Samsung's Facebook profile says, "Were you excited about the introduction of our GALAXY Tab 10.1 at 2011 Mobile World Congress? If you so, we've got more surprises in store at our UNPACKED event on 3/22!"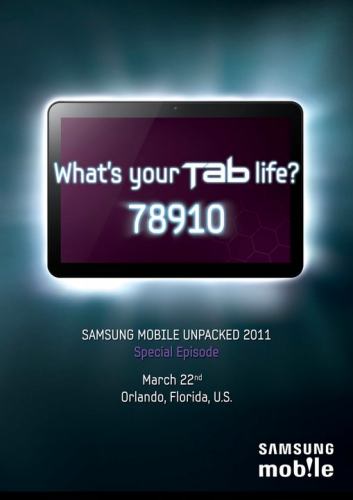 The new tablet hopefully to be launched in March will surely be released running Android 3.0 (Honeycomb) and no lower, as soon as we hear more about the new Samsung Tab and the event we will let you know.