iPhone 5 Countdown: New 64GB & Old School Design
The iPhone 5 should release in June if we look at all other iPhone release dates, each year iphone has released the same time. Time will tell and it is now the iPhone 5 countdown begins.
There are many rumours of late as to what features and design will be added to the new Apple handset, but we have to chat about it getting a release date first and Beat Week like ourselves say that there is no guarantee that the iPhone 5 will arrive in June, in fact we reported not so long ago it could be possible that it may not make it to the shelves until 2012 (Speculation of course).
Personally, we cannot see Apple delaying the new iPhone this year, why would they? Each year they have delivered so why not deliver this year.
What about the design and features then? Yet again many speculations as to what the new iPhone will look like and if the features can better the iPhone 4, an earlier report from our very own James via sources say that the iPhone 5 could have a new antenna logo and the casing could possibly be made from shiny aluminum.
The new design mock up shown below (Image via macotakara) seems to be going back a few steps in looks rather than forward, glad these are only mock ups and not the final release (Fingers crossed that this is NOT the final release design).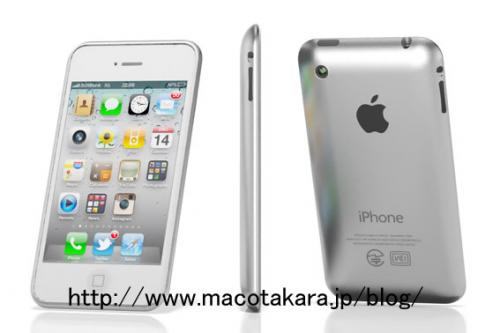 Apparently and according to an article via 9to5Mac Apple is working hard on a new 64GB iPhone 4, on a personal note they should scrap the idea of a 64GB iPhone 4 and just release a new iPhone 5 64GB, do you agree?
Whatever happens being it the release date, features, specifications or design it is now that the iPhone 5 countdown for release begins.