Nokia X1-00 Release Date, Specs and Price
Nokia has today released perhaps one of its cheapest (and loudest) phones to date, the X1-00 at a price of 34 Euros, which is believed to be aimed at the music lovers out there amongst us.
But, please don't be fooled into thinking that you're not going to be getting much for your money, as the phone comes with a large speaker on the back that can deliver your music at a rate of 106phon (now a phon is a unit of measurement for loudness and apparently 106 of them is enough to shake your window frames).
Now before you start saying 'at that rate the music is probably going to sound like a distorted mess', the guys at Nokia Conversations state that a bit of tweaking has been done to the frequency response, so that you can turn up the volume on the phone and still listen to your music without distortion. This is something that many of the more expensive phones are unable to offer.
The X1-00 also comes with a 3.5mm audio jack, so you can plug speakers into the phone when you want to crank up the volume or plug headphones in when you want to keep the music experience personal. The Nokia X1-00 comes with support for MicroSD memory cards up to 16GB, so that's a lot of extra music storage. There is also an FM radio integrated into the phone, so you can listen to you favourite radio station, whilst on the move. It also uses Nokia's Series 30 operating system.
Other features on the X1-00 are an integrated LED flashlight, pre-loaded games, music player app, 5 phone books (yes, I did say 5), according to an article on the mobile.engadget.com site, the possible reason for this is so that the phone can be shared among multiple family members. All this and more neatly packaged in a brightly coloured phone which measures 112.2 x 47.3 x 16mm and weighs 91g.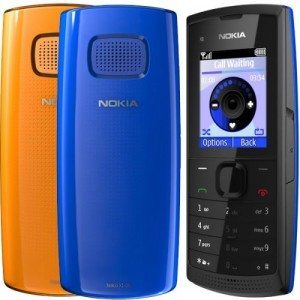 This is certainly a phone to catch the eye of prospective buyers and the ear of music lovers.