HTC Thunderbolt Available: Toying With The Mind
Ever got the feeling you are getting the run around, that someone somewhere out there in the mobile space may be toying with the mind when it comes to the release of the HTC Thunderbolt on Verizon?
Virtually daily a new later release date for the Android 2.2 Froyo smartphone hits the net in one form or another, and many have thought the HTC Thunderbolt should have been released by now, including authorised Verizon retailers apparently.
According to an article over on Intomobile, the guys at Droid-life received the latest advertising flyer for Verizon phones that have been hitting Verizon customer homes, and on said flyer is the claim that the HTC Thunderbolt is now available.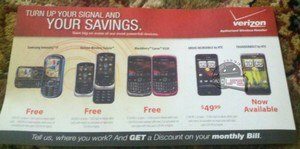 Thus it would at least appear that even the Big Red's retailers were expecting the device to be released before now, yet Verizon still haven't announced that official release date but let retailers push out flyers touting the device to customers, and toying with the mind that the handset is available.
Of course as they say in the game, publicity is publicity, and look at the free publicity Verizon and the HTC Thunderbolt have been getting recently, bad publicity I know, but it still keeps that HTC Thunderbolt firmly in the public's eye and mind.
Personally being in the UK I'm not after the HTC Thunderbolt anyway, but it appears many are over in the States, judging by our recent poll. So it's about time Verizon stopped toying with the mind and released the Android smartphone as soon as humanly possible, or at least confirm when they intend doing so.
Of course, feel free to vent your complete annoyance over the HTC Thunderbolt release shambles to our comments area below.