Sams Club Motorola Xoom Price, 3G Only
Sam's Club has now got the Motorola Xoom Tablet PC on it's site and if you are looking at buying the WiFi version of the Xoom then you will be disappointed as they only have the 3G model.
The Motorola Xoom 3G is now showing up on Sam's Club online store and for $599.74 with a new Verizon Wireless account it can be yours, now if you look at the image via Sam's Club above you will notice that it has '4G' stamped on it but we not that is not true because the Xoom has to be sent to Motorola for an upgrade.
According to Phandroid a WiFi-only version was priced at $539.99 within the club but this is not yet official so we cannot count on this as of yet, we will have to wait on Motorola to give a full official pricing and availability announcement.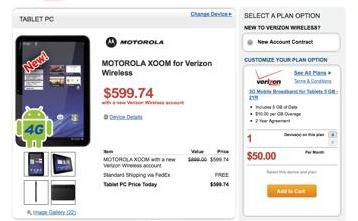 We will be bringing you more information on the WiFi only version as soon as we know something, please head on over to Sam's Club and get your Motorola Xoom 3G tablet now.
What Motorola Xoom version do you want; we would love to know what you like. Please do post all comments in the area provided below. If you are in the UK please do check out our previous post mentioning the PC World UK Price.
Source — Android Community