Real Racing 2 HD and Infinity Blade Optimised for Apple iPad 2
Naturally as the Apple iPad 2 is due release, iOS developers are in the process of optimising their apps to play nice on the new iOS tablet, one developer has already launched an optimised version while another is expected to launch today.
According to an article over on MacRumors, Firemint has now launched Real Racing 2 HD, an iPad 2 optimised version of the mobile game that includes "full-screen anti-aliasing, completely revamped Castellona track with extreme quality textures and models, flexible save system, enhanced reflections, incredibly detailed objects and surfaces, and more."
Next ChAIR/Epic Games have announced they are to launch an Apple iPad 2 optimised version of their popular Infinity Blade iOS game, which should hit the App Store sometime today. The updated version of Infinity Blade includes "high-resolution graphics that utilize the enhanced visual capabilities of the iPad 2."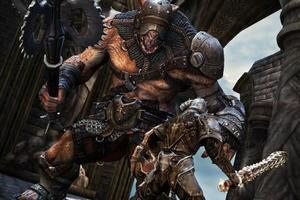 For those wishing to purchase the optimised version of Real Racing 2 HD for their Apple iPad 2 you can download it right now from iTunes at a cost of $9.99, while the current iPad version of Infinity Blade can still be purchased for $5.99 until the updated version is released.