Xperia Play BackStab Action Game Exclusive by Gameloft: Hot
The Sony Ericsson Xperia Play aka PlayStation Phone is a lovely looking gaming smartphone and no matter how well it works it is no good without decent games on board, this is where you say hello to BackStab by Gameloft.
Gameloft as we know are leading developers of awesome games and they are joining forces with Sony Ericsson to give the Xperia Play a game it deserves, the new action/adventure thriller game called "BackStab" will be exclusive to this device.
Gonzague de Vallois, senior vice president Publishing of Gameloft said "We are truly excited to continue our support of Xperia Play with an exclusive release of BackStab, bringing the action adventure experience to a new level," and "We already have a strong line-up for Xperia PLAY and its capabilities as a fully enabled smartphone with dedicated gaming controls make this device one powerful contender in the gaming space."
BackStab looks stunning (Screenshots below this article) and is an epic story of revenge set on an 18th century Caribbean island, you will play hero Henry Blake and go on to seek vengeance on his British jailers.
BackStab features open 3D environment for free roaming, missions include side quests and activities such as duels and races. This game will release on the Sony Ericsson Xperia Play Q2 2011.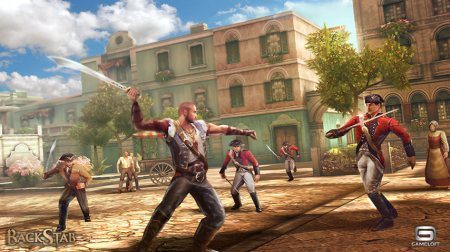 Source via email sent to us, you can read more via the Gameloft Blog
Asphalt 6: Adrenaline and Star Battalion will also be embedded into the Gaming smartphone, good device, and good games, what more could you want?
The Screenshots