William and Kate The Royal Wedding Celebration App
The Royal Wedding with Prince William and Kate Middleton is getting closer and interactive content development studio Onteca has just released a new iOS app for the iPhone, iPad and iPod Touch.
This app contains everything you need to know about the Royal Wedding and then some, how their relationship blossomed, who is on the wedding list celebrity style. This app called "A Royal Wedding Celebration: William and Kate" by Onteca has many features that we know you will just love.
Main App Features Include: The Royal Wedding Countdown, Massive Photo Gallery of intimate Press Association photos, A Route Guide on how Kate will make her way to the wedding, Scroll through storybooks, The Prince's life story and an intimate collection of photos and Catherine's life story and an intimate collection of photos.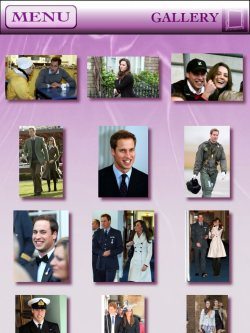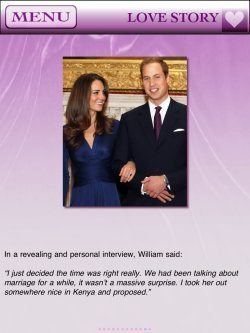 You can also read about the love story between Kate and William, the history behind the ring William gave to Kate, Who's hotly tipped to design Kate's dress, Which famous guests are tipped to be at the big day and Quotes from Royals and Celebrities about the wedding of the century.
Kate's engagement ring once belonged to Princess Diana and you can read all about this within the application. Download the app via iTunes right now to enjoy
A Royal Wedding Celebration: William and Kate app is available for the iOS devices and Android, you may want to know that BlackBerry Torch 9800 users will be able to get this application fairly soon. Please let us know what you think of the app if you have already installed it onto your device. Thanks