New Google Docs Android App with OCR
Many users of smartphones will use their device to access, edit and share content whilst on the go. Well to aid in this pursuit Google have released a new Android app called 'Google Docs' that will make the management of documents a lot easier, the app also includes the ability to convert images into text.
The document editing is still carried out exclusively on the web, but with the added functionality of this Android app, the user's experience of Google Docs on their mobile device is greatly improved. Google accepts that documents are meant for sharing and therefore, they have added support for widgets that can easily access stored contacts. People could be tempted away from using traditional office suite software, with these kinds of improvements coming in.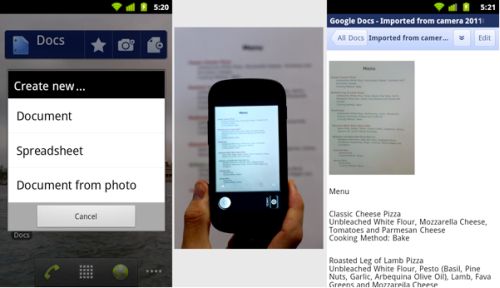 Information on this app come to us by way of googlemobile.blogspot.com via VentureBeat and goes on to add, of all the additions perhaps the most notable is the Optical Character Recognition (OCR), which has the ability to convert words found in images into a document with editable text. However, this feature may not sit well with the old school bookstores, which invite customers in to lounge around sampling the books and magazines.
This Google Docs app is consistent with the company's overall strategy of enticing new users with the seamless integration of all its services into the Android platform, thus possibly making Android devices more desirable to new users.
At present, the Google Docs app is only available to devices that operate Android 2.1 or higher. So why not visit Android Market, install this app free of charge and then come back to tell us what you think.