HTC Thunderbolt Battery, Hidden Low Price via Verizon
We have a right little gem here for you; if you buy the HTC Thunderbolt battery replacement via Verizon you will get a hidden low price pop up on the screen.
Before we tell you about the low hidden price, the HTC ThunderBolt standard 1400 mAh battery is priced at $39.99 when you visit the Verizon online store, but with a few simple steps the price is cut by $20.
Visit Verizon here, which takes you to the HTC ThunderBolt standard 1400 mAh battery page showing the $39.99, underneath the price you will see 'Device Compatibility – View Device Compatibility', simply click the link under this saying 'Select Device'. Once you have done this just find the HTC Thunderbolt and click the image of the smartphone, this will then show that the phone is compatible with the battery for sale.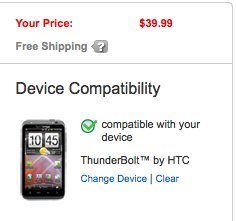 The price still says $39.99, but not too worry because as soon as you hit the 'Add to Cart' tab you will be taken to another page with the low price of only $19.99.
It has a little tab saying 'New Discount' and when you hover your cursor over this is gives a little message saying "Great news your order qualified for an additional discount that has been applied". Check out the screenshot below of the new low price.