Is Skype down for you? Outage Problems
Skype is having some problems at the moment, so much so it has gone down in many countries. Seeing as there is a Skype outage we wonder if Microsoft made the right decision to buy Skype.
The outage problem has occurred a couple of times over the last few weeks, according to Engadget countries such as Bulgaria, UK, Netherlands, Japan, Brazil, Spain, Australia, Malaysia, Croatia, Belarus, Portugal and Italy seems to be suffering the downtime as well.
This is only affecting a small number of users, you will be please to know that here in the UK our Skype is working fine. The Skype Website has put a few details on its website, mentioning that they are fully aware of the problem and is fixing it as we speak.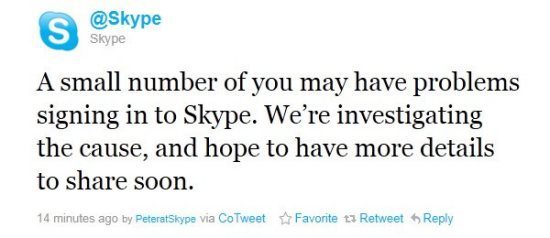 Please let us know if you have been disconnected from Skype, have you experienced the outage. The blog also suggests that you do not need to sign back in to Skype, as it will reconnect automatically.
If you are encountering this problem with Skype, please let us know what country you are in. All comments most welcome in the commenting area below. Thanks