ITV Player App Delivers Streaming TV to iOS and Android
For quite some time now the BBC has made available their BBC iPlayer app on both the Android and iOS platforms, and now it appears that rival UK broadcaster ITV has finally delivered their ITV Player to both platforms as well, which delivers streaming TV to the Android and iOS masses.
According to the guys over at The Digital Lifestyle, ITV released their ITV Player app for the iPhone, iPod Touch and Apple iPad a few days ago, and on checking the ITV Player app is also available on the Android platform.
The ITV Player app for iOS and Android devices delivers ITV's catch-up service to smartphones and tablets and the iOS version is the first app that enables the user to view ITV programmes that ITV hold the mobile rights to and can be viewed for up to seven days after the initial broadcast.
The ITV Player app will work on both iOS and Android handsets and tablets but requires a WiFi connection to playback programmes, the user can catch up with programmes aired on ITV1, ITV2, ITV3 and ITV4.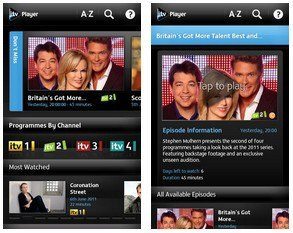 With the ITV Player app for iOS and Android the user can search for programmes alphabetically or by channel, navigate in either portrait or landscape, browse recommended programmes, although users must be within the United Kingdom to use the ITV Player app for now.
Those on the iOS platform wishing to take advantage of the iOS ITV Player app require their device to be running iOS 4.3 or above and can download the ITV Player app as a free download from iTunes.
Those wishing to take advantage of the Android version of ITV Player require Android 2.2 Froyo or above along with Adobe Air 2.6 or above and can download the ITV Player app from the Android Market as a free app download, while the application should work on most Android devices depending on processor capabilities.
Furthermore, apparently some users whether iOS or Android in certain regions will be restricted to only having access to view ITV2, ITV3 and ITV4 programmes.
Having a Samsung Galaxy S I have the BBC iPlayer app on my smartphone and sometimes make use of it to catch up with anything I may have missed, so I may also download the ITV Player Android app to give it a go and see how well it stacks up against the BBC alternative. Anyone else going to grab this app?