Verizon Motorola Droid Bionic Sign-Up or wait for iPhone 5
One question pops up in our minds and that it, "Will you join the Verizon Motorola Droid Bionic sign-up page or will you wait for the new Apple iPhone 5?" this is where we will see if we have more Android or iOS users.
The Droid Bionic is expected to release in August and Verizon has just launched its new Sign-Up page for the Droid Bionic, the website has now gone live and all you need to do is enter your email to register for information.
The Motorola Droid Bionic dual-core 4G smartphone comes with many top features and not so long ago the Best Buy flyer was leaked by 'This is my Next', we cannot seem to find this on the Best Buy site but it was leaked.
Now that Verizon has launched its new sign-up page for the Motorola Droid Bionic, we can see this phone definitely releasing in August or hopefully before. The smartphone was first delayed because if problems with the handsets LTE capabilities, this obviously is not an issue anymore.
The official release date of the Droid Bionic is still a mystery, but late-July to early August is on the cards. The Verizon sign-up page (via PCMag) for those that are interested in leaving their email address will get up-to-date information on all details and release dates as soon as they are released.
The Droid Bionic's main features include: dual-core 1 Ghz processor, HDMI port to mirror your videos and games etc, 4.5-inch 960-by-540 display, the handset can also work as a remote control, will have both rear and front-facing cameras (8-megapxiel 3264×2448 pixels, with dual-LED flash, geo-tagging, face detection and image stabilization and autofocus at the front), it also comes with 1080p and possible 3D enhancement (1080p@24fps (2D) and 720p@30fps (3D) similar to HTC EVO 3D is expected).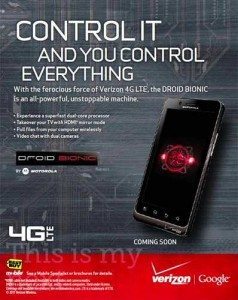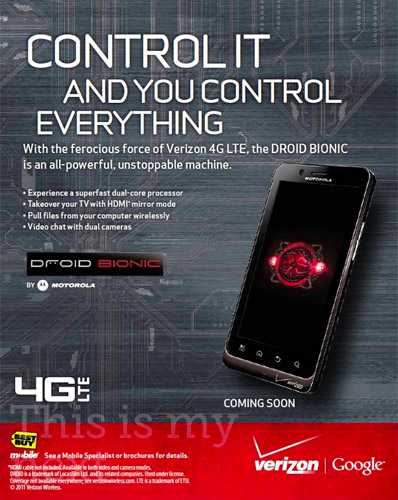 We will bring you more news on the Motorola Droid Bionic as it comes in, please join me (Mark Chubb via Facebook, Twitter or Google+)
What would be the outcome if we asked you, "What smartphone would you choose given the choice of the iPhone 5 or the Droid Bionic?"
If you take a read over at IBT, they say that the Motorola Droid Bionic seems to have clearly dwarfed the iPhone 5, but obviously you have to take into consideration that no official iPhone 5 specifications have been revealed yet, but must admit the MDB seems to be a very nice smartphone.
The iPhone 5 is rumoured to be getting a 3.5-inch or 3.7-inch (960×640 resolution at 312 ppi) display, and the Motorola Droid Bionic will come with 4.5-inch 540×960 pixels (qHD) TFT capacitive touchscreen display.
My Personal View: I have both Android smartphones and have owned all iPhone's since they were released, I cannot sit there and say what one is better as that would be wrong, but I can say I use the iPhone more on a daily basis due to simplicity. Got to admit though the Droid Bionic is going to get a lot of attention, the specifications are superb.