iPhone 4 Accessories: AstroClip Telescope Mount: Video
If you are a stargazer or love looking at the moon, and have often wanted to take good quality pictures of the cosmos, using the iPhone 4 to snap a picture of space isn't good, but if you also have a telescope a new iPhone 4 accessory will enable you to utilise your iPhone 4 camera and telescope to photograph the wonders of the galaxy.
The iPhone 4 accessory is called the AstroClip and enables the user to attach their iPhone 4 to any telescope with a 1.25-inch wide eyepiece, which means it will work with all popular telescopes, and has been designed by Matthew Geyster.
The AstroClip is manufactured in injection moulded plastic and clips to the iPhone 4 enabling the user to mount the device to the telescope easily and once attached the user can run their preferred camera app to snap images of the night sky.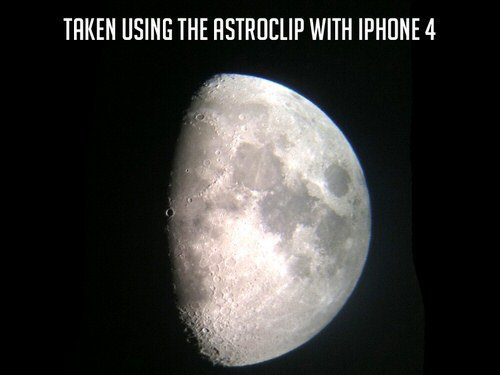 Unfortunately though for all you iPhone 4 toting would-be astrologers out there you can't purchase the AstroClip yet because it is a Kickstarter project that requires substantial funding to get off the ground, around $15,000.
According to the designer the accessory will be manufactured solely in the United States to assure quality. If you would like to make a pledge to the project, for a donation of $25 or more you will get a pre-order placement for one AstroClip in black or white once manufacturing is complete.
A $40 or above pledge will snag you a Kickstarter special edition of the iPhone 4 accessory, and the more you are prepared to pledge the more you get.
Seems like a neat little accessory to me if you really want to snap clear shots of the night sky as you can't do it with the iOS smartphone without an accessory, so this idea just may take off well in the future as there are a lot of people out there that do like stargazing and the like.
We also have a two minute video of Matt giving his all to promote the AstroClip for the iPhone 4 and a close up look at the AstroClip itself along with a quick video showing how easy it is to fix the accessory to your iPhone 4, so I'll leave it right there and let you hit that play button to check out the device…enjoy.