Use iPhone 4S Siri for Facebook and Twitter
If you own the Apple iPhone 4S, it is common fact that many users have asked the new Siri assistant thousands of questions and commands, and up until now it was not possible to add Facebook updates and tweets to Twitter using the new assistant.
The best feature on the new iPhone 4S is without a doubt the new Siri voice assistant, you ask it something and it will reply. We have the iPhone 4S and we asked Siri "Twitter Update", Siri replied back with "Sorry Mark, I can't help you with Twitter" the same reply came back about Facebook as well, but now there is an answer.
What we asked Siri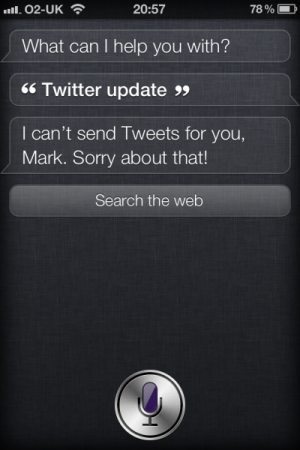 Twitter has now been integrated deep into the new iOS 5, and this is why we find it surprising that you can send tweets using Siri, here is how you can add Facebook updates and tweets to Twitter thanks to iDB.
We all know that you can send tweets via SMS, which coincide with you mobile phone number. Basically in a nutshell all you need to do is set up a new contact name called "Twitter", which will then allow you to send tweets. Visit Twitter.com and then click on settings; in here you will see Mobile settings.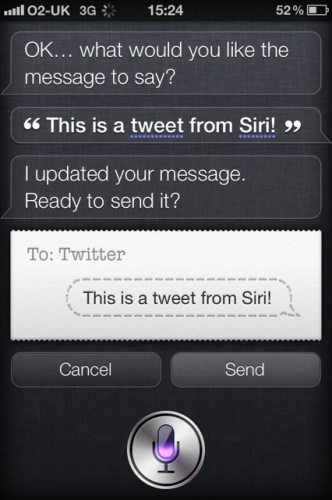 Just set up your phone so that you can send tweets via text message, iDB has said that you should turn off all the SMS notification settings that Twitter seems to turn on by default, especially if you already get those notifications via push messages on your iPhone.
Once all your mobile is set up with Twitter all you need to do now is ask Siri this "Send Text Message", Siri will then ask what would you like to send, in which you say what you want sent, Siri will then send this for you.
Facebook is basically the same, like Twitter please visit the Facebook settings page and follow the on screen instructions.
Set up a new contact called Facebook where you can send status messages to 32665 (or your "Facebook" contact) using Siri. Please do try this out and let us know here at Phones Review how you got on.