Droid 2 Global Gingerbread update, users comments
If you are a Motorola Droid 2 Global user, you will be very happy to know that the delayed Android Gingerbread update aka 4.5.608 is now rolling out again.
This software update has annoyed a few Droid 2 Global customers, the update got delayed back in September, since it started it first roll out it saw two delays, but now it is back.
The new 4.5.608 update brings new features and enhancements, full list below via phonedog, cheers guys.
Enhancements:
– Download Manager App:
o New App to manage all of your downloads from web browsing, email attachments and other apps.
– App and Power Management Details:
o Under Manage Applications, a new "Running" tab displays a list of active applications and the storage and memory being used by each.
– Dock Icons:
o Static Phone, App Launcher and Contacts icons are replaced within a customizable dock. Three swappable icons and the App Launcher icon are fixed to the Dock at the bottom of all home screen panels for easy and instant access.
– App Groups:
o New App Menu allows creation of custom app groups, in addition to 3 default groups: All Apps, Recent and Downloaded.
– Security:
o Added Device and SD Card encryption. VPN enhancements integrate IPSec VPN clients into device security settings.
– Multi-Touch Key-Chording:
o New ability to enter numbers and symbols with keyboard shortcut combos, instead of having to change to the numeric keyboard mode.
– Improved Word Selection and Copy Functionality:
o New capability to select a word via press-hold. A second press of the selected word copies the selected characters.
– New User Interface and Color Scheme:
o New widgets, icons and screens with refreshed colors.
– Updated Calendar Options:
o Display Calendar and event times in your home time zone when traveling.
o Dismiss individual reminders, such as dismissing one meeting reminder without dismissing other meeting reminders.
o Easy conference dialing — simply dial and automatically enter a conference code directly from your Calendar.
– Additional Device Features
o Improvements in stability prevent lockups, resets and force close errors.
o Bluetooth® devices will now select the correct audio recording level for optimal voice capture and alert you when your audio level is too low.
o Improved battery life while using Bluetooth.
o Access My Verizon without any force close errors.
o Reset Backup Assistant under Manage Applications menu.
o Enhanced connectivity when roaming in GSM/UMTS networks (Europe and India).
o Improved battery life during Wi-Fi use.
o Exchange ActiveSync encryption fails after OTA update.
– Preloaded Apps and Programs
o Google Books
o Accuweather
o Amazon MP3 Store
o Blockbuster®
o Adobe® Flash® Player 10.2
Additional Improvements:
– Email and Messaging
o Sporadic issues with unintended recipient list corrected for text, picture, video and audio multimedia messages.
o Exchange ActiveSync calendar events created on the device will now push to your PC calendar.
o POP3/IMAP emails now show the correct date stamp.
– New ActiveSync Email Policy Support for the following:
o Data encryption for both the internal and SD card memory.
o Require manual synchronization while roaming.
o Allow HTML email.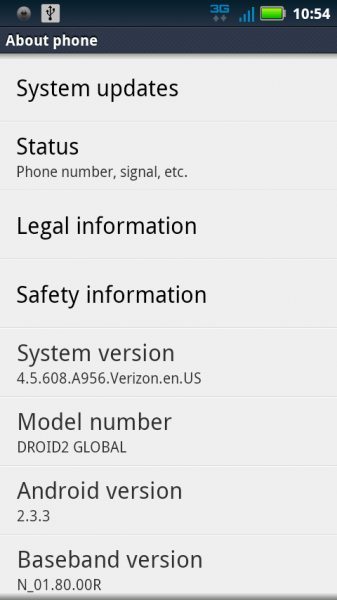 Source — Droid-Life